Back Home
Just put my feet on Dutch soil again and it feels steady but a bit flat. The past ten days were a perfect mixture of travels, meetings, greetings, listening, playing, eating and sleeping. Oh, and beer. The Anarcho Folk Fest Winter Warmer was indeed a very warming event. Loads of people fitted their selves in two relatively small spaces, to share thoughts through music. I saw and heard a lot of good musicians, of which at least half were female, which pleased me immensely! I almost had no purpose in singing 'Loud Femininity' over there.. Food Not Bombs had treated us to a lovely variety of deliciousness to make it complete.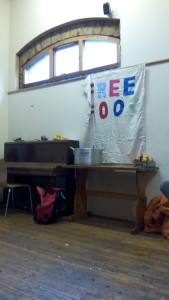 The traffic at night in Londen can be a challenge though, softly put. After 2 and a half hours of being grumpy in busses that didn't know where they were going and trying to squeeze our way through the drunk and loud herd of Pubbers and Clubbers, I had to decide I was not going to reach my final sleeping destination. But luckily, if you know friends of friends in a city like that, there is always a sofa bed nearby.
Next day Leeds, being Hosted by James Bar Bowen and Jacks, an evening of chilling and homebrew and a pirate movie. The next day Dave Hughes picked me up and we drove to York to play the Black Swan, their oldest pub. Little audience but the atmosphere was good. Didn't feel particularly good about my set there though. Luckily the next day in Glasgow we both had a chance to do it all over and better. And we did! Jud Harron joined us and her voice was amazing! The crowd was one of the best any musician could hope for, definitely one of my best gigs so far! We ended with all three on stage, belting out a nice cover, as a perfect end to the evening.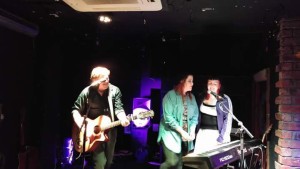 Some days of rest and recording followed as did some tourist stuff like the Paisley Museum and Art Gallery and getting spoiled rotten by my lovely hosts. On Friday Dave and I drove up to Dundee for the 9th edition of Book-Yer-Ane-Fest. It was great to know already quite some people there because they had been at gigs I played or they had performed in Knoflook, like Tim Loud and Billy Liar. A weekend filled with punk, dancing, singing along, shivering of the cold, snow surprises, sitting and listening in awe, baguette tae fuck, glitter discussions, puns and giggles followed. I will definitely be going back there next year!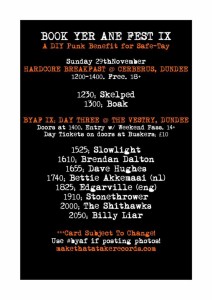 Shattered and aware of the slippery road, back to Glasgow for some final recording on Monday. I have a feeling this EP is going to be absolutely great. But a lot of work goes into it, so don't expect anything before the next year. For now, I will just have to be patient and try to get rid of this cold and after-tour-blues that crept up on me. Face life again in its everyday assets.